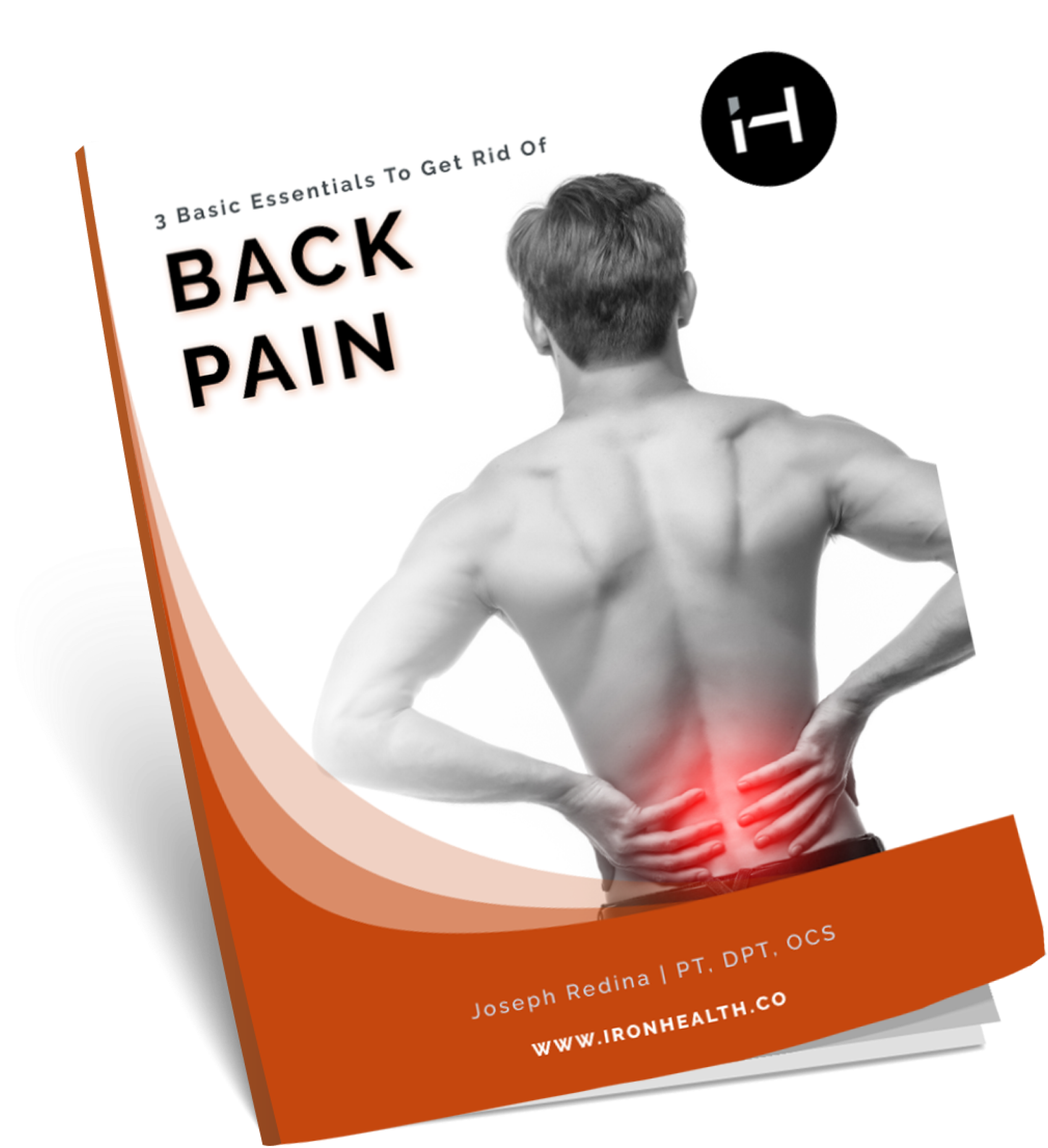 Back Pain
"How to discontinute back pain today without restricting your everyday life…"
Do you think having lower back pain is normal? Maybe you blame it on "sleep patterns" or "spasms" or 'getting older?"….We tend to hear this all the time; people think that having lower back pain, stiffness or an ache is normal. That the pain will "pass."
If this is happening to you, you're not alone – We hear this all the time. Actually, lower back pain and pain down the leg is one of the most common problems that we solve in our clinic.
When it comes to living with Shoulder pain, everybody wants to know the answers to the following questions:
"Why Me?"
"Can I Ever Get Back To Exercise?"
Most people think that they cannot do anything about their issues and chances are it will continue to be present until you get some help… YouTube videos and Google searching will only get you so far. 
Another common situation at Iron Health is when people come in and say that their physician recommended painkillers rest, and time.
This advice is usually not the best! After a few weeks you will end up back in the physician's office due to continued or worsened pain. The physician will then recommend a STRONGER dose of medication and MORE rest. From this we understand why so many people are experiencing chronic pain.
You may ask why does my back pain last so long? The truth is that with all the self diagnosis and various opinions it can be misleading and confusing.
Maybe you think your back pain was caused by a specific action – lifting or moving quickly- But really it was caused by little chronic stressors over the years. Simple stress from improper posture or a life full of sitting can be the sole culprit of this persistent back pain.
IF you suffer from back pain I get that it can be confusing and troublesome. Most people we see just become accustomed to the pain and term it to be normal.
Do You Feel That Way Too?

Schedule A
FREE DISCOVERY SESSION
If you want to get a taste of how Iron Health Physical Therapy can help you, click the button below to complete a quick form. This questionnaire will allow us to learn more about you so we can give you the answers you've been looking for.
If you are not quite ready to go ahead and book an appointment with a PT just yet, perhaps speaking over the phone with a PT at Iron Health is more preferable.
ALL calls are FREE and the PT will be sure to answer all questions you may have. We want to make sure we can help you 100%.
7 Reasons why your back pain may be lasting longer than it should:
You Classify it as temporary
Your physician recommended bed rest and anti-inflammatories to seize the pain, but after a few hours the medication wore off and the pain returned immediately
Someone you know told you "It is part of getting older."
You were unsure of where to turn for help.
The top exercises you searched, under "back pain," and attempted gave you negative results.
You decided to just "wait it out," but all that did was make you more stiff and increase your pain.
You went to a local massage therapist in pursuit of relief, however the benefits were short lived.
If any of the above sounds like you, we would love to help you. At Iron Health, we offer a FREE consultation with one of our Doctors of Physical Therapy! Since you've experienced one or some of the reasons above, we automatically know what wouldn't work; allowing us to focus on other approaches that will allow us to find the answer. Our major goal is to help you! CLICK the link below to book a phone call with us now. The call is completely FREE and you are not obligated to book any appointments after the call. We want to be apart of your guidance in the right direction!
See What Others Are Saying About Iron Health Physical Therapy
Annette - Late 50's - Ossining, NY
This is a success story from someone JUST liKE YOU, that has benefited tremendously from the care of our Iron Health team. ENJOY!
Patti - Early 50's - Croton, NY
This is a success story from someone JUST liKE YOU, that has benefited tremendously from the care of our Iron Health team. ENJOY!

Fill Out the Form To Get YOUR Special Report With All The Best Ways To End Shoulder Pain