#1 ACL THERAPY IN WESTCHESTER AND STAMFORD
LEAVE YOUR NUMBER – WE WILL CALL YOU WITHIN A DAY
If you want a free physical therapy discovery visit or maybe you have a question you'd wish yo ask a Doctor of Physical Therapy, leave your details below and someone will contact you within 24 hours.
The Anterior Cruciate Ligament is an important ligament in your knee that limits excessive internal rotation as well as forward movement of your tibia. It is crucial in providing stability to the knee, especially for those playing sports. ACL sprains and tears are common in sports that involve cutting and pivoting and also contact sports, and can often be associated with other tears, such as MCL or meniscus.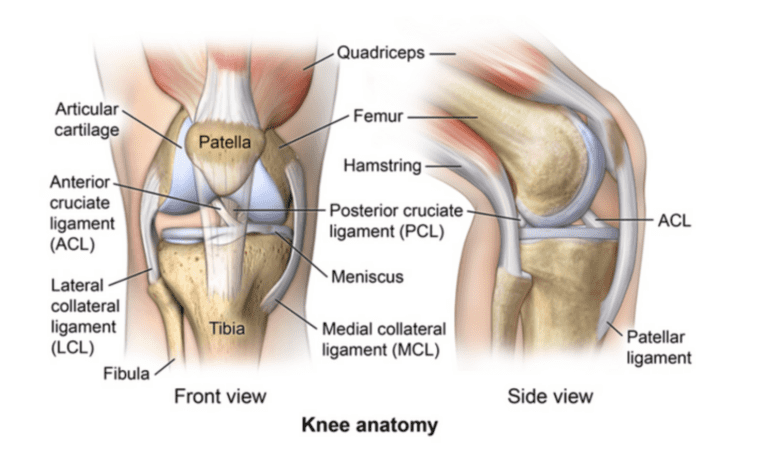 Phase IV (14-24 weeks) Advanced Strength/Running/Plyometrics
1. Develop Speed and Power
2. Continuing to progress advanced/functional strengthening
3. Return to running and jumping
4. Prepare the patient for the demands of your sport.

Phase V (6-10 months) - Return to Sport
1. Similar to Phase IV, but more specific to the individual's sport demands
2. Sport specific conditioning and movements
3. Agility work to include cutting and pivoting

Phase I (0-2 weeks): Swelling and Pain Management
1. Minimize and Control Swelling/Pain
2. Initiate Quad Activation Exercises
3. Achieve 90 degree's of knee flexion
4. If meniscus repair performed, can be locked in
extension with more ROM restrictions for up
to 6 weeks

Phase II (2-6 weeks): Mobility
1. Achieve full, pain-free knee motion and a normal, symmetrical walking pattern
2. Begin strength training, proprioception/balance training, and functional activities
3. Introduce bike as tolerated
4. Continue to emphasize quad strength and control
5. Rehab

Phase III (6-14 weeks): Strength
1. Continue Progressing strength and conditioning
2. Increasing exercise tolerance and endurance
3. This phase can last longer depending on how quickly you are able to increase strength
4. Symmetrical Quad size and strength compared to non-surgical side

Elijah C.
"I have had a great experience doing ACL rehab at Iron Health. Workouts are challenging and exciting.
It is a great place with great people."
Cecilia S.
"My post-op physical therapy has been amazing. At the 6 week post surgical appointment with my doctor, he said that I was ahead of schedule because most people were flexing 90 degrees and I was up to 120 degrees. I am grateful for my experience with IronHealth Physical Therapy."
Annette - Late 50's - Ossining, NY
Before Iron Health,  Annette was losing nights of sleep. Two months later she feels "better than 100%."
Patti - Early 50's - Croton, NY
This is a success story from someone JUST liKE YOU, that has benefited tremendously from the care of our Iron Health team. ENJOY!
Sherif - Mid 30's - Briarcliff Manor, NY
Everyone is always in an upbeat mood and always very encouraging. I always feel really great when I leave.
*NOTE: no treatment is provided at our discovery sessions. The more questions you ask the better we can confirm whether or not we can help you.

Schedule A
COMPLIMENTARY PHYSICAL ASSESSMENT
If you want to get a taste of how Iron Health Physical Therapy can help you, click the button below to complete a quick form. This questionnaire will allow us to learn more about you so we can give you the answers you've been looking for.